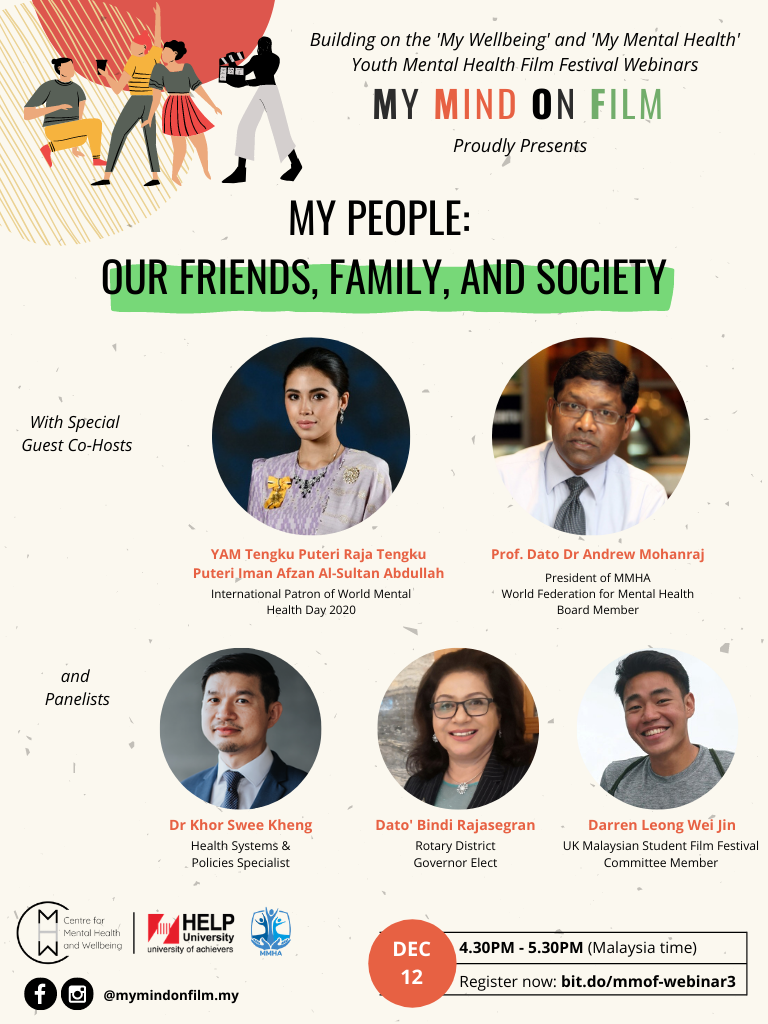 By Lim Vin Tsen (December 12, 2020)
My Mind On Film Festival series recently held its third webinar online on December 12. Theme, "MY PEOPLE: OUR FRIENDS, FAMILY AND SOCIETY", the esteemed panelists in the webinar were gathered to discuss the importance of mental well-being and how our relationships with our friends, family and society are inter-connected with our mental being in today's pandemic and lockdowns. This webinar was hosted by HELP University's Psychology Department and featured honored guests co-host – Her Royal Highness Tengku Puteri Raja Tengku Puteri Iman Afzan Al-Sultan Abdullah, International Patron of World Mental Health Day 2020 and Dr. Andrew Mohanraj, President of Malaysian Mental Health Association and a World Federation of Mental Health Board Member.
The panelist invited in the webinar were Dato' Bindi Rajasegaran, Rotary District Governor Elect and also coordinator for the National Coalition for Mental Health Initiatives in Malaysia; Dr. Khor Swee Kheng and Darren Leong. The webinar started with a question posed to her Royal Highness on what is the most important thing to family about mental health and how we can learn to cultivate better mental well-being with our loved ones during this pandemic. "I think that this really is an important question,' said Her Royal Highness, "There's so much that families can do around mental health to better their approach. I feel that breaking the stigma starts at home more than anything."
Her Royal Highness also pointed out that families need to be empathetic and understanding with one another and not to be dismissive or judgemental of each other's feelings and mental issues. Just being present with each other, especially during this time of the pandemic is important and having an open mind should be the key. Families whom educate themselves about mental health and have an open-mindedness will help with the empathy and not to dismiss their own loved one issues.
Education and educating oneself about mental health and awareness is also key for parents and family members to support their loved ones better. On his thoughts on how we can better protect our mental health during this growing pandemic, Dato' Dr Andrew Mohanraj said that long term uncertainties of this global virus will continue to have implications to our mental health as he found that this pandemic to be much more worse than a humanitarian crisis.
This is because,' said Dr. Andrew, 'Access to mental care and healthcare, food supplies could be limited as opposed to being in a humanitarian crisis whereby all these were given priorities and pushed forward. It is the uncertainty of the pandemic that will continue to have long-term mental health implications. That being said, it is crucial to show solidarity and care for others. The simple act of saying Hello and reaching out to people one does not normally talk to can give a person an appreciation of friendship and the role that they play in our lives and to not take anyone for granted.
The webinar was then opened with a panel discussion whereby Her Royal Highness posed questions to the distinguised guests on the importance of organisations in helping to promote and protect mental health and why we need to de-stigmatise issues that need to be addressed in healthcare as well as our homes. Other issues such as the pressures of studying abroad were brought up and the general advice was to go at your own pace, explore your options wisely and to not rush into anything blindly.
About My Mind On Film
The My Mind On Film youth mental health short film festival is being launched to coincide with World Mental Health Day 2020. This project is central to the Centre for Mental Health and Wellbeing's commitment to engaging with young people, hearing their voices, and working together for progress. It combines emphases on inspiration, expression, understanding and stigma reduction with a focus on the local Malaysian context.
The festival is the first of its kind in Malaysia and has the following objectives:
Inspire sharing of perspectives and ideas
"Recognise that mental health is universal, changeable, and includes the positive
Break down stigma."
Visit our website for more information: https://sites.google.com/view/mymindonfilm
Films to be submitted here: https://filmfreeway.com/mymindonfilm
About the Centre for Mental Health and Wellbeing
The Centre for Mental Health and Wellbeing (CMHW), launched in January 2020 is a collaboration between HELP University and the Malaysian Mental Health Association (MMHA) to support mental health at a national and regional level. This will be achieved through academic research, training programmes and a think tank to anticipate and address emerging challenges and opportunities in mental health and wellbeing. See our first newsletter for more details on CMHW activities. For more information email: cmhw@help.edu.my