Kuala Lumpur, Wednesday, 8 December 2021 – HELP University had just signed a Memorandum of Understanding (MoU) with the Early Childhood Care and Education (ECCE) Council Malaysia at the signing ceremony today to work towards providing quality early childhood education training to pre-service and in-service teachers in Malaysia.
In line with one of its vision to be a university that offers a learning experience that enhances career development, lifetime values and personal fulfilment, the purpose of this Memorandum of Understanding is to help promote an affordable, quality educational opportunity – the HELP University's Diploma in Early Childhood Education (DECE) to ECCE members.
The MoU ceremony was attended by key members from both organisations. YBhg. Datin Professor Dr. Mariani binti Md. Nor, President of the ECCE Council Malaysia, and Professor Datuk Dr. Paul Chan, Vice Chancellor and President of HELP University officiated the signing ceremony.
With this collaboration, HELP will offer DECE programme in blended training mode and certificate courses on weekends to ECCE council members. Through networking, both parties aim to lay strong foundations for meaningful early childhood experiences among our children. To that end, both parties will also continue to explore collaboration in other educational areas of mutual interests and joint research projects.
According to Professor Dr Goh Lay Huah, Head of Education Department, HELP University, "the department continuously seeks to improve the quality and implementation of its early childhood education programmes through joint cooperation with industry partners and experts like the members of the ECCE Council."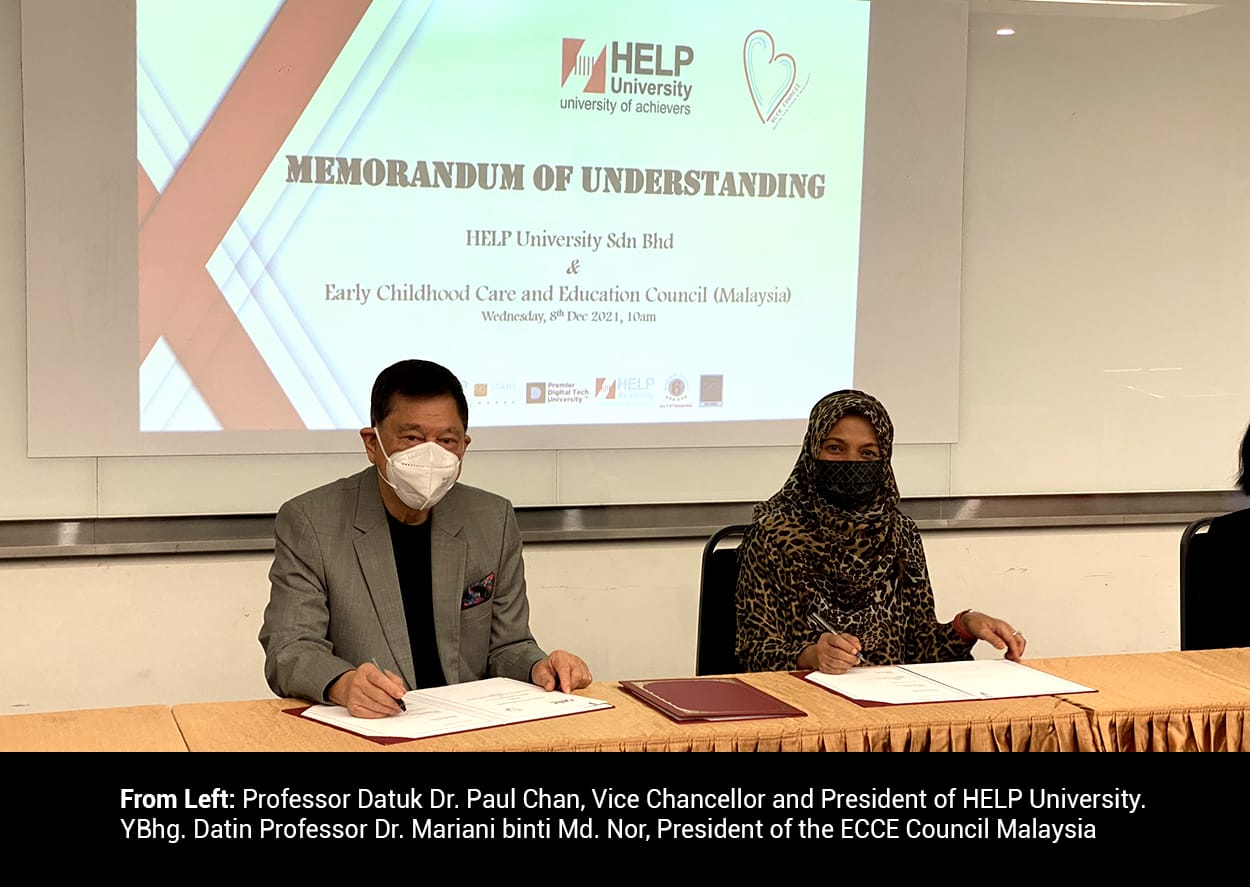 HELP University is a Premier Digital Tech Institution and aspires to be the Analytics-Driven Entrepreneurial University. It has established itself as a premier institution of higher learning in Malaysia, and its programmes are especially strong in majors such as Psychology, Law, Business, IT, Education and A-Levels. It also offers graduate programmes from Master to Doctorate level. Its main mission is to help people succeed in life and to live a life of significance through education.
The Early Childhood Care & Education Council (ECCE Council), an initiative under the Economic Transformation Programme, was established on 30 December 2010 to serve the interests of the ECCE industry. Its main function is for the professionalization of ECCE and quality control as well as to form a link between the industry and relevant government bodies and agencies at all levels. Currently, two academic staff from the Education Department at HELP University are active members of the ECCE Council. Some ECE students from HELP University also joined the council as student members.
Datin Professor Dr. Mariani said, "By having this MoU with HELP University and the training programme made much more affordable, I hope that the ECCE members would be motivated to upgrade themselves with the Diploma in Early Childhood Education programme or the Bachelor in Early Childhood Education programme with HELP University. In addition, the ECCE Council will collaborate with HELP University in the efforts to train quality good teachers."
HELP University has always been a university that shares its success with the communities it serves. It shall continue to share its quality talent pool, innovative learning resources, educational technology, with relevant stakeholders, like members of the ECCE Council.