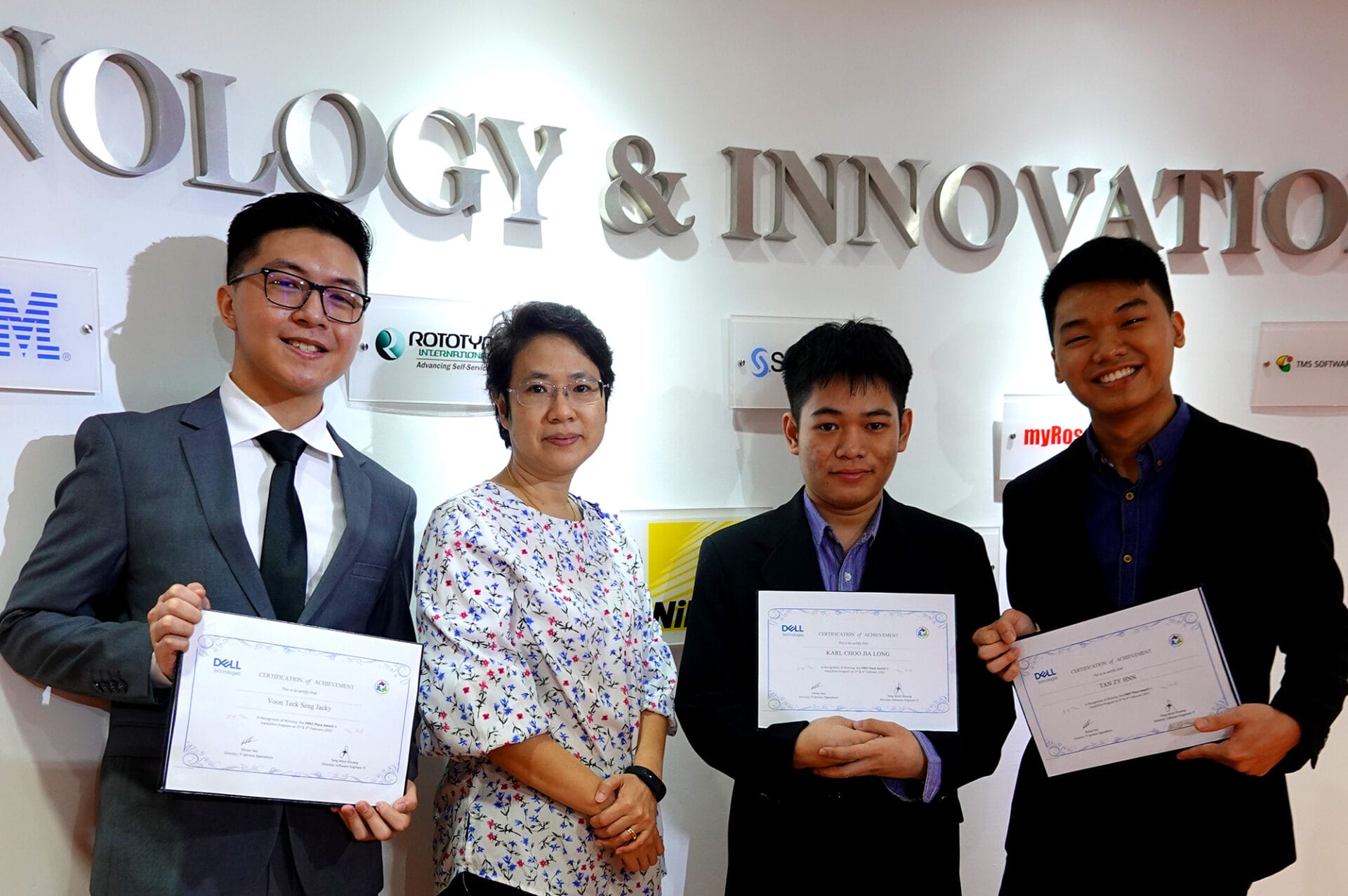 Final Year HELP Bachelor of IT students Karl Choo Jia Loong, Tan Zy Hnn, Voon Teck Seng Jacky and Koi Cheng Hann took the top prizes at the Dell Digital Virtual Hack2Hire competition.
Dells's Hack2Hire is an innovative initiative for recruiting potential employees, a 'holistic hiring process' that tests students on their problem-solving, learnability, collaboration, empathy, teamwork and articulation skills. At the same time, it is a great accelerated learning technique for students to solve real-world industry problems. Twenty teams from various Malaysian universities took part in the competition, including University Malaysia of Computer Science & Engineering, Universiti Teknikal Malaysia Melaka, APU, UCSI, INTI International University, UOW Malaysia KDU College, Universiti Malaya and HELP University.
The participants were required to solve a problem on a global program devised for Dell's recent full-time college hires. The brief was to create a solution that tracks the registration of events such as social hangouts, training, CSR activities, etc.; progress updates; status in terms of trainings completed and events attended. The teams were given one week to prepare their solution to the problem followed by 12 hours of intense coding. The judging was based on relevance, innovation, uniqueness, technical readiness and presentation.
The HELP winning team members attributed their success to the fundamental knowledge and skills that they acquired during the Bachelor of IT (Hons) programme. They asserted that the teamwork, problem solving, software development, project management and presentation skills that they had learnt during their studies contributed greatly to the team's ability to develop the completed and winning solution in such a short time Choo also found the user experience design skills that he learnt at university especially useful in the hackathon. Koi maintained that the biggest advantage the team had over the others was the planning and design process: his team was able to excel in this category based on the invaluable experience they had in designing and developing projects during the course of their studies. Voon acknowledged that the professional and conducive learning environment at HELP encouraged him and his team mates to explore and hone their technology skills. As a result, Tan said that they were able to apply some of these technologies and tools in the hackathon. Based on the system design topics at HELP, they found that they were able to derive innovative solutions to the problem and select the most appropriate solution.
Apart from prizes, winners were offered permanent positions for graduate students and internships for final year students. As the four winners fall in the latter category, they will be working as interns for Dell in May 2021.